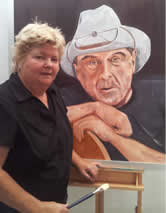 Zoe Graham - Artist
Welcome - I'm Zoe Graham, an Australian artist working in various styles of art, including portraits, landscapes, mixed media and Australiana.
On this site you will find a collection of my works, which can be purchased, or, for corporate clients, rented to brighten your office space.
Ever considered commissioning an original artwork? My rates are very reasonable and I am sure you will be delighted with the results!
After purchasing one of Zoe's paintings for our foyer, I decided to commission Zoe to do two pieces for our board room.
She interpreted the brief perfectly, producing two paintings which fitted the room perfectly with the colour, texture and subject attracting many positive comments.
Sonya Phillips, CEO
Community Transport Organisation of NSW
Late last year our Club completed a $3 million renovation which included revamping our Reception area.
To coincide with the new look we commissioned Zoe Graham to paint an abstract piece of art work, consisting of various features of our local area, to hang behind our new Reception Desk.
Zoe was taken on a tour of our local coal mine sites, wineries, power stations, farms and local landmarks.
When presented with the final artwork we were very impressed by what Zoe had accomplished and to this day Zoe's abstract of our local area has become a talking point and a feature of our Club's new look.
Thanks Zoe for a great job.
Daryl Egan, CEO
Muswellbrook RSL
Zoe has completed a number of art projects within the aged care facility in which I work.
As a Diversional Therapist I have appreciated her expertise in interpreting a wide variety of briefs that have been given to her.
She works within a very short time frame and creates meaningful results for the elderly residents.
She has gained much respect from both residents and staff for her professionalism and understanding of the challenges of the aged care industry.
Sandy Burrage, Diversional Therapist
ARV Castle Hill
Keep up with what's happening in my world via my Facebook page, and come back to this website regularly to see new images in my galleries.
You never know what you may find!
It gave me great pleasure to create these artworks, and I hope you also enjoy viewing them.